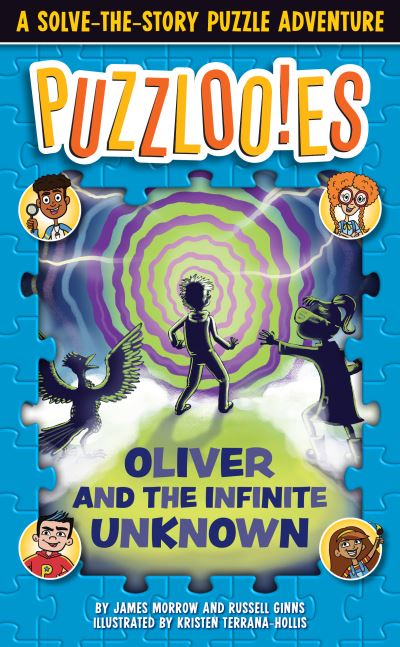 Puzzlooies! Oliver and the Infinite Unknown
Snag a pencil. Sink into a silly story. Solve the puzzles and save the day! Say goodbye to boring downtime and hello to Puzzlooies!, the latest in portable entertainment. Meant for kids to write in, these illustrated and compact books flip up like a reporter's notebook, making them perfect for fast fun while on the go. Each zany adventure is packed with eclectic puzzles to decipher and decode?as well as jokes, riddles, and true trivia galore that'll keep readers laughing till the very end . . . if they can reach it!In Oliver and the Infinite Unknown, Oliver is used to being in his twin sister's shadow. To everyone else, Monica makes incredible inventions. But to Oliver, she's just stealing his favorite things for more outrageous experiments. Then one day, when Monica disappears into one of her own mechanisms, it's Oliver who has to think creatively as he navigates the past . . . and the future. Solve
Snag a pencil. Sink into a silly story. Solve the puzzles and save the day!
 
Say goodbye to boring downtime and hello to Puzzlooies!, the latest in portable entertainment. Meant for kids to write in, these illustrated and compact books flip up like a reporter's notebook, making them perfect for fast fun while on the go. Each zany adventure is packed with eclectic puzzles to decipher and decode-as well as jokes, riddles, and true trivia galore that'll keep readers laughing till the very end . . . if they can reach it!
In Oliver and the Infinite Unknown, Oliver is used to being in his twin sister's shadow. To everyone else, Monica makes incredible inventions. But to Oliver, she's just stealing his favorite things for more outrageous experiments. Then one day, when Monica disappears into one of her own mechanisms, it's Oliver who has to think creatively as he navigates the past . . . and the future.
 
Solve the puzzles inside to read on and see if Oliver can save his sister from disappearing forever, or if they're both doomed to another dimension.
Additional information
| | |
| --- | --- |
| Weight | 119 g |
| Dimensions | 133 × 216 × 6 mm |
| Author | |
| Publisher | Bright Matter Books |
| Imprint | Bright Matter Books |
| Cover | Paperback |
| Pages | 80 |
| Language | English |
| Edition | |
| Dewey | |
| Readership | Children – juvenile / Code: J |