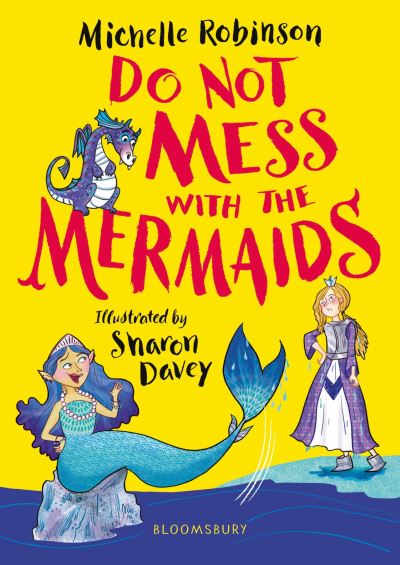 Do Not Mess With the Mermaids
The Kingdom of Wondermere is all aflutter. For the first time ever, the mermaid queen of the Outer Ocean is coming to visit. What an honour! Everyone must be on their best behaviour and wear theor most elegant clothes to greet Queen Jeen. Yes, even you, Princess Grace. And it goes without saying that there will be no rule-breaking whatsoever. Nothing must put the royal visit at risk. Not even one teeny-tiny little baby dragon called Dennis.
Grace has proved to the kingdom of Wondermere that when it comes to courage, determination, playing TROLL-O on unicorn-back and being a BRAVE KNIGHT, she's just as good as any boy!But now Wondermere is expecting a VERY IMPORTANT visitor: the MERMAID QUEEN of the Outer Ocean. That means frilly dresses and best behaviour - and absolutely NO RULE BREAKING. But when a purple DRAGON EGG falls into the moat of Wondermere castle, Grace and her sister Princess Portia find themselves babysitting a BIG SECRET. One teeny tiny little dragon called Dennis couldn't possibly disturb the royal visit ? could he?Cheeky, charming and laugh-out-loud funny, this is the side-splitting sequel to bestselling Michelle Robinson's debut young fiction novel, Do Not Disturb the Dragons. Chock-full of chuckles (and grumpy unicorns), it's perfect for fans of Cressida Cowell and Pamela Butchart.
Additional information
| | |
| --- | --- |
| Weight | 176 g |
| Dimensions | 198 × 129 × 18 mm |
| Author | |
| Publisher | Bloomsbury Children's Books |
| Imprint | Bloomsbury Children's Books |
| Cover | Paperback |
| Pages | 211 |
| Language | English |
| Edition | Paperback original |
| Dewey | 823.92 (edition:23) |
| Readership | Ages 5-12 / Code: B |