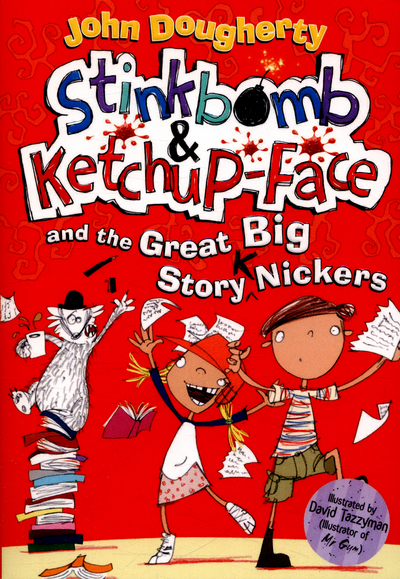 Stinkbomb & Ketchup-Face and the Great Big Story Nickers
When bits of their story go missing, along with Ninja Librarian Miss Butterworth, Stinkbomb and Ketchup-Face decide to investigate in their own inimitable way.But who would be so evil and wicked as to nick chapters from books? Could it be a penguin? A zebra? A newspaper? Or some other fiendish black and white thing . . . ?
Warning: This book contains nickers . . . but NOT the frilly kind!It's summertime in Great Kerfuffle and Stinkbomb and Ketchup-Face are off to the Loose Chippings library. But right in the middle of chapter seven, they suddenly find themselves in chapter nine!! What the heck is that all about?With Ninja Librarian, Miss Butterworth, trapped in chapter eight, our intrepid heroes journey through a bizarre collection of stories, meeting various pirates, zombies, animals, and Draxxar the Doombringer, in their quest to find their friend.But who on earth could be behind this evil and wicked story mix-up? Well, I'll give you a clue, they're stripy, they're black and white, and they're definitely NOT zebras . . .
Additional information
| | |
| --- | --- |
| Weight | 174 g |
| Dimensions | 183 × 133 × 14 mm |
| Author | |
| Publisher | Oxford University Press |
| Imprint | Oxford University Press |
| Cover | Paperback |
| Pages | 177 |
| Language | English |
| Edition | Paperback original |
| Dewey | 823.92 (edition:23) |
| Readership | Ages 5-12 / Code: B |