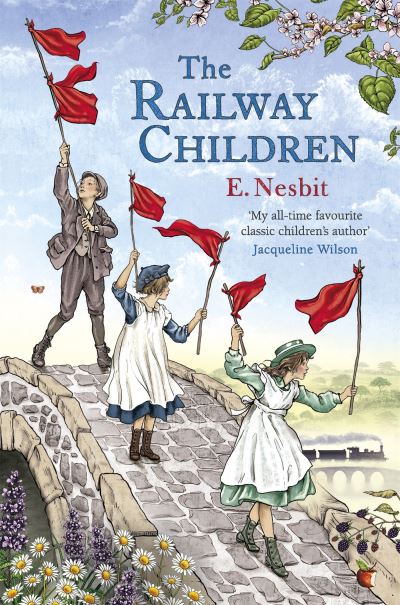 'The Railway Children' tells the story of Bobbie, Peter and Phyllis, three children whose lives change dramatically when their father is mysteriously taken away. They move from London to a cottage in rural Yorkshire with their mother, where they befriend the local railway porter, Perks, and embark on a journey of discovery, friendship and adventure. But the mystery remains – where is Father, and is he ever coming back?
'By turns sweet and serious, this much-loved classic is above all a celebration of kindness and hope' KIRAN MILLWOOD HARGRAVE
'Edith Nesbit was endlessly surprising and inventive . . . She is also simply the funniest writer we have ever had, while being the one who could most easily and sweetly break your heart with a phrase ... Just try saying "Daddy, oh my Daddy" without catching your breath' FRANK COTTRELL_BOYCE
WITH ALL THE ORIGINAL ILLUSTRATIONS BY C. E. BROCK, REPRODUCED FROM THE ORIGINAL EDITION
When their father is suddenly taken away, the children's lives change overnight. Unable to afford their London home, the family must move to a small cottage in the Yorkshire countryside. Hiding their sadness from their mother, Roberta, Peter and Phyllis roam the fields all day. Every morning they can be seen waving as the 9.15 train roars past, imagining that it will can carry their love to their father, wherever he may be. The trio become a familiar sight and their bravery and quick-thinking avert a railway disaster. There is a kind old gentleman passenger never fails to wave back - little do the children realise how much his friendship will mean to them, especially in solving the mystery to their father's disappearance.
This collection of the best in children's literature, curated by Virago, will be coveted by children and adults alike. These are timeless tales with beautiful covers, that will be treasured and shared across the generations. Some titles you will already know; some will be new to you, but there are stories for everyone to love, whatever your age. Our list includes Nina Bawden (Carrie's War, The Peppermint Pig), Rumer Godden (An Episode of Sparrows), Joan Aiken (The Serial Garden, The Gift Giving) E. Nesbit (The Psammead Trilogy, The Bastable Trilogy, The Railway Children), Frances Hodgson Burnett (The Little Princess,The Secret Garden) and Susan Coolidge (The What Katy Did Trilogy). Discover Virago Children's Classics.
Additional information
| | |
| --- | --- |
| Weight | 230 g |
| Dimensions | 197 × 128 × 24 mm |
| Author | |
| Publisher | Virago |
| Imprint | Virago |
| Cover | Paperback |
| Pages | 248 |
| Language | English |
| Edition | |Reprint |
| Dewey | 823.8 (edition:23) |
| Readership | General – Trade / Code: K |