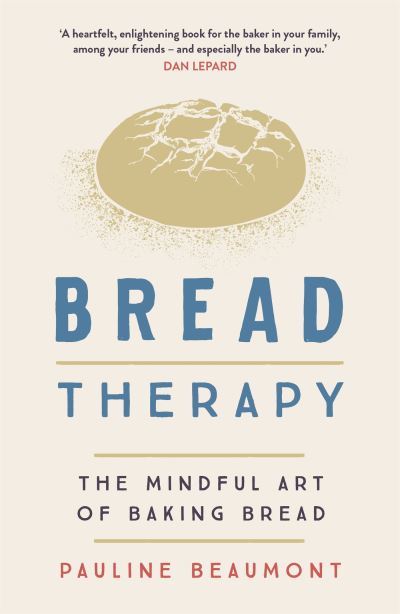 In learning to accept the imperfect loaf, we learn to accept ourselves and our beautifully imperfect lives. This is a guide to taking time out of our lives, embracing the reality of our own flaws and taking healthy steps towards self-compassion and acceptance. It shows a synergy between baking bread and achieving peace of mind. It offers calm and measured self-help through the window of a simple cookbook and the slow process of bread making, encouraging readers to stop what they are doing and take the time to pick up a mixing bowl and put theory into practice.
'Pauline Beaumont writes persuasively about the power of something as simple as breadmaking to help us cope with life's stresses and disappointments.'
- Andrew Whitley, author of Bread Matters and DO Sourdough - Slow bread for busy lives

'A heartfelt, enlightening book for the baker in your family, your friends, and especially the baker within you.'
- Dan Lepard, award-winning baker, food writer and photographer
When life gets challenging, simple pleasures and timeless traditions can help us manage. Bread Therapy is a love letter to the art of making real bread.
Making our own bread provides us with an unhurried, creative activity that is joyful, calming and productive - providing a much-needed antidote to life's stresses and strains. From kneading dough, to taking a delicious-smelling freshly baked loaf out of a hot oven, bread-making can be a mindful experience and a therapeutic craft that can nurture and nourish us. As yeast transforms flour and water, so making bread can transform us and our lives.
As we seek 'slow skills' to free us from the digital world we are inhabiting more and more, and mindful activity to help us manage our mental wellbeing, so bread-making is experiencing a renaissance. This book will guide you through the art of bread making, with insight into the benefits of this ancient craft which will nourish mind and body. It celebrates bread making as a way of understanding ourselves better, learning important life lessons and making positive changes to our mental and physical wellbeing. It features eight simple bread recipes to get you started on your bread-making journey.
Pauline Beaumont is a passionate bread baker, mother of six and counsellor who believes fervently in the power of bread-making to aid our emotional and psychological wellbeing.
'We love this book as it sums up exactly how we feel about bread. Bread is like a small animal; it needs feeding, resting and quite a lot of love to get it to feel right. Caring for it gives you a huge buzz. Bread also has the ability to care for you and making bread is such a simple and pure way of boosting mental wellbeing. Pauline's book captures the magic of this equation beautifully.' - Alex and Kitty Tait, founders of The Orange Bakery
Additional information
| | |
| --- | --- |
| Weight | 140 g |
| Dimensions | 196 × 130 × 20 mm |
| Author | |
| Publisher | Yellow Kite |
| Imprint | Yellow Kite |
| Cover | Paperback |
| Pages | 192 |
| Language | English |
| Edition | |
| Dewey | 641.815 (edition:23) |
| Readership | General – Trade / Code: K |