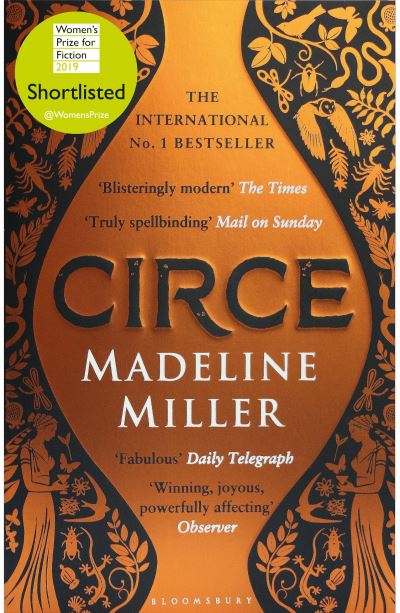 In the house of Helios, god of the sun and mightiest of the Titans, a daughter is born. But Circe has neither the look nor the voice of divinity, and is scorned and rejected by her kin. Increasingly isolated, she turns to mortals for companionship, leading her to discover a power forbidden to the gods: witchcraft. When love drives Circe to cast a dark spell, wrathful Zeus banishes her to the remote island of Aiaia. There she learns to harness her occult craft, drawing strength from nature. But she will not always be alone; many are destined to pass through Circe's place of exile, entwining their fates with hers. The messenger god, Hermes. The craftsman, Daedalus. A ship bearing a golden fleece. And wily Odysseus, on his epic voyage home.
The international Number One bestseller from the author of The Song of Achilles, shortlisted for the Women's Prize for Fiction
Woman. Witch. Myth. Mortal. Outcast. Lover. Destroyer. Survivor. CIRCE.

In the house of Helios, god of the sun and mightiest of the Titans, a daughter is born. Circe is a strange child - not powerful and terrible, like her father, nor gorgeous and mercenary like her mother. Scorned and rejected, Circe grows up in the shadows, at home in neither the world of gods or mortals. But Circe has a dark power of her own: witchcraft. When her gift threatens the gods, she is banished to the island of Aiaia where she hones her occult craft, casting spells, gathering strange herbs and taming wild beasts. Yet a woman who stands alone will never be left in peace for long - and among her island's guests is an unexpected visitor: the mortal Odysseus, for whom Circe will risk everything.
So Circe sets forth her tale, a vivid, mesmerizing epic of family rivalry, love and loss - the defiant, inextinguishable song of woman burning hot and bright through the darkness of a man's world.
THE NUMBER ONE INTERNATIONAL BESTSELLER

CHOSEN AS A BOOK OF THE YEAR BY THE GUARDIAN, TELEGRAPH, SUNDAY TELEGRAPH, I PAPER, SUNDAY EXPRESS, IRISH TIMES, TIMES LITERARY SUPPLEMENT, AMAZON, AUDIBLE, BUZZFEED, REFINERY 29, WASHINGTON POST, BOSTON GLOBE, SEATTLE TIMES, TIME MAGAZINE, NEWSWEEK, PEOPLE, ENTERTAINMENT WEEKLY, KIRKUS, PUBLISHERS WEEKLY AND GOODREADS
Additional information
| | |
| --- | --- |
| Weight | 246 g |
| Dimensions | 198 × 129 × 22 mm |
| Author | |
| Publisher | Bloomsbury |
| Imprint | Bloomsbury |
| Cover | Paperback |
| Pages | 336 |
| Language | English |
| Edition | 1st paperback ed |
| Dewey | 813.6 (edition:23) |
| Readership | General – Trade / Code: K |