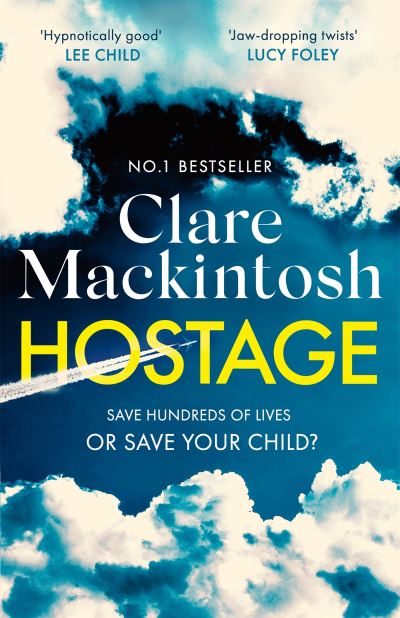 You can save hundreds of lives. Or the one that matters most. The atmosphere on board the inaugural non-stop flight from London to Sydney is electric. Numerous celebrities are rumoured to be among the passengers in business class and journalists will be waiting on the ground to greet the plane. Mina is one of a hand-picked team of flight attendants chosen for the landmark journey. She's trying to focus on the task in hand, and not worry about her troubled five-year-old daughter back at home with her husband. Or the cataclysmic problems in her marriage. But the plane has barely taken off when Mina receives a chilling note from an anonymous passenger, someone intent on ensuring the plane never reaches its destination. Someone who needs Mina's assistance and who knows exactly how to make her comply. It's twenty hours to landing. A lot can happen in twenty hours.
THE INSTANT SUNDAY TIMES BESTSELLER FROM THE NO.1 BESTSELLER
'HYPNOTICALLY GOOD' LEE CHILD
'JAW-DROPPING TWISTS' LUCY FOLEY
'THE BOOK OF THE SUMMER' SUN
Save hundreds of lives. Or save your child?
You're on board the first non-stop flight from London to Sydney. It's a landmark journey, and the world is watching.
Shortly after take-off, you receive a chilling anonymous note.
There are people on this plane intent on bringing it down - and you're the key to their plan.
You'd never help them, even if your life depended on it.
But they have your daughter . . . So now you have to choose.
DO YOU SAVE HUNDREDS OF LIVES? OR THE ONE THAT MATTERS MOST?
'Feels like a blockbuster movie' LISA JEWELL
'The queen of nail-biting suspense' IRISH INDEPENDENT
'A nail-biter of a thriller' SHARI LAPENA
'A rip-roaring finale' GUARDIAN
'Propulsive - will have you questioning "what would you do?" at every turn' KARIN SLAUGHTER
'Mackintosh is a pro' NEW YORK TIMES

'Taking the locked room mystery to a new, white-knuckle extreme, this is electrifying' HEAT
'When Clare Mackintosh goes high concept, she doesn't mess around' LINWOOD BARCLAY
'An incredibly tense read that has a satisfyingly clever ending' GOOD HOUSEKEEPING
'A thrilling rollercoaster of a story. It'll leave you breathless' JANE FALLON
'A smart pay-off' THE TIMES, THE BEST THRILLERS FOR JUNE
'A tense, convincing, nail-biter of a thriller' ADELE PARKS, PLATINUM MAGAZINE
'A banger of a book with a truly agonising "what would you do?"' RUTH WARE
'A thrilling, chilling gut-punch of a book' RED
'Why did no one warn me how bloody addictive it is?' TAMMY COHEN
'I dare anyone to read this high-octane, tense thriller on a flight' PRIMA
'I got wrong-footed, then I got whiplash! Mind-blowing' SANDIE JONES
'The year's most intriguing high-concept plot' DAILY EXPRESS
'Full of mystery, tension and emotion. An incredible thriller' ALLIE REYNOLDS
'Buckle up for some edge-of-your-plane-seat action' FABULOUS
Additional information
| | |
| --- | --- |
| Weight | 280 g |
| Dimensions | 196 × 126 × 32 mm |
| Author | |
| Publisher | Sphere |
| Imprint | Sphere |
| Cover | Paperback |
| Pages | 400 |
| Language | English |
| Edition | 1st paperback ed |
| Dewey | 823.92 (edition:23) |
| Readership | General – Trade / Code: K |