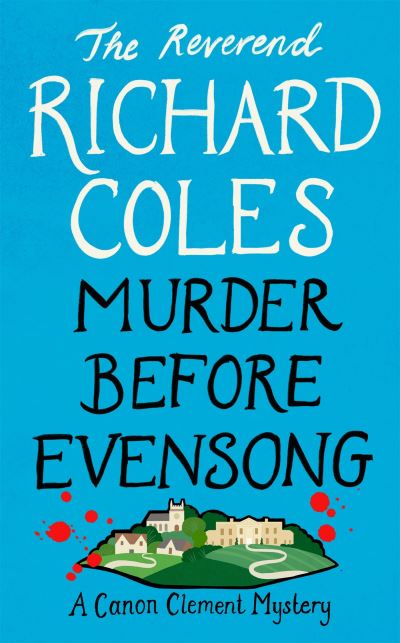 Canon Daniel Clement is Rector of Champton. He has been there for eight years, arriving at the invitation of the patron and landowner, Bernard, Baron de Floures, of Champton House. Daniel's previous post was curate at a smart central London parish, where he got to know the de Floures family through his brother Theo, an up-and-coming actor and socialite. Audrey Clement, his widowed mother, lives with him at the Rectory on the estate. He has two dachshunds, Cosmo and Hilda. The story begins with Daniel announcing from the pulpit a plan to install a lavatory in church. This is long overdue, he thinks and so does Bernard de Floures, but the announcement goes down badly with the parish. Firm opposition comes from Mrs Harper and Mrs Dollinger of the Flower Guild, who are habitual opposers of change. There is opposition too from others who do not like the the thought of matters lavatorial in church.
THE FIRST NOVEL IN THE REVEREND RICHARD COLES' CANON CELEMENT MYSTERY SERIES

'Britain's favourite vicar might be hanging up the dog collar, but in Murder Before Evensong he proves to be the unlikely heir to Barbara Pym... Like all the best cosy mysteries, this is comforting but not anodyne. And the style suits the content perfectly: wonderfully feline when it comes to jokes, but moving easily to unselfconscious wisdom when required'
DAILY TELEGRAPH
'I've been waiting for a novel with vicars, rude old ladies, murder and sausage dogs ... et voila!'
DAWN FRENCH
'Whodunnit fans can give praise and rejoice'
IAN RANKIN

'A warm funny joy from start to finish'
SARAH MILLICAN
'You'll want to take a front row pew in Champton while this delicious series unfolds'
JANICE HALLETT
'An absolute joy from cover to cover - funny, clever and wonderfully plotted. Praise be!'
ADAM KAY
'Murder Before Evensong has all the elements that make up a classic detective story: a pitch-perfect setting, a genuine puzzle, a gruesome murder (or more) and engaging characters. I enjoyed it very much'
PHILIP PULLMAN
'Glorious'
ROBERT WEBB
'Champton joins St Mary Mead and Midsomer in the great atlas of fictional English villages where the crimes are as dastardly as the residents delightful. Only Richard Coles could pull this off so joyfully and with such style'
DAMIAN BARR
Canon Daniel Clement is Rector of Champton. He has been there for eight years, living at the Rectory alongside his widowed mother - opinionated, fearless, ever-so-slightly annoying Audrey - and his two dachshunds, Cosmo and Hilda.
When Daniel announces a plan to install a lavatory in church, the parish is suddenly (and unexpectedly) divided: as lines are drawn, long-buried secrets come dangerously close to destroying the apparent calm of the village.
And then Anthony Bowness - cousin to Bernard de Floures, patron of Champton - is found dead at the back of the church, stabbed in the neck with a pair of secateurs.
As the police moves in and the bodies start piling up, Daniel is the only one who can try and keep his fractured community together... and catch a killer.
Additional information
| | |
| --- | --- |
| Weight | 590 g |
| Dimensions | 236 × 160 × 36 mm |
| Author | |
| Publisher | Weidenfeld & Nicolson |
| Imprint | Weidenfeld & Nicolson |
| Cover | Hardback |
| Pages | 224 |
| Language | English |
| Edition | Hardback original |
| Dewey | 823.92 (edition:23) |
| Readership | General – Trade / Code: K |