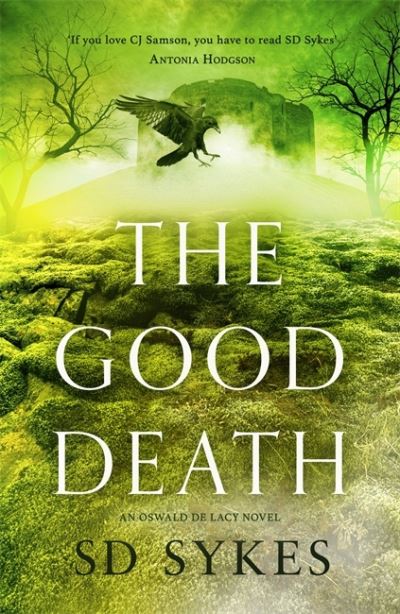 Oswald de Lacy, Lord of Somershill, sits at his mother's deathbed. Before she dies, he must make a confession. He needs to tell of the days when he was eighteen years old, the third, disregarded son of the family, sent off to become a monk, working in the infirmary while plague raged outside the monastery. Of how he was sent to a nearby village and witnessed the death of a local girl, and how he swore to investigate – and how he was drawn into a crime so dark and terrifying, it haunts him – and his family – still.
'The series gets better and better . . . a very credible medieval world . . . Oswald is such an appealing character, growing richer and deeper with every book' - Andrew Taylor, author of Ashes of London
1370. Oswald de Lacy was not always Lord of the Manor, or even meant to be. The third son, he was sent off to become a novice monk. Now, with winter closing in on Somershill, his wife flirting with their houseguest, his sister sniping from the sidelines and his mother still ruling his life even from her deathbed, Oswald is forced to confront the secret that has haunted him ever since those days in the monastery.
1349. Sent to gather herbs in the forest by his tutor, Brother Peter, 18-year-old Oswald encounters a terrified girl, who runs into the swollen river and drowns. In her village, he discovers that she is only one of many poor young women who have disappeared, with no-one in authority caring enough to investigate.
Convinced the girls are dead, Oswald turns to the village women for help in finding the murderer - in particular to the beautiful Maud Woodstock, who provokes feelings in Oswald that no monk should entertain.
Soon, however, another killer stalks the land. Plague has come and the monastery is locked against it. Brother Peter insists that Oswald should forget his quest. But Oswald will not stop until he has discovered the shocking truth, which will echo down the years to a letter, clutched in his dying mother's hand.
Additional information
| | |
| --- | --- |
| Weight | 214 g |
| Dimensions | 196 × 130 × 24 mm |
| Author | |
| Publisher | Hodder |
| Imprint | Hodder |
| Cover | Paperback |
| Pages | 295 |
| Language | English |
| Edition | 1st paperback ed |
| Dewey | 823.92 (edition:23) |
| Readership | General – Trade / Code: K |