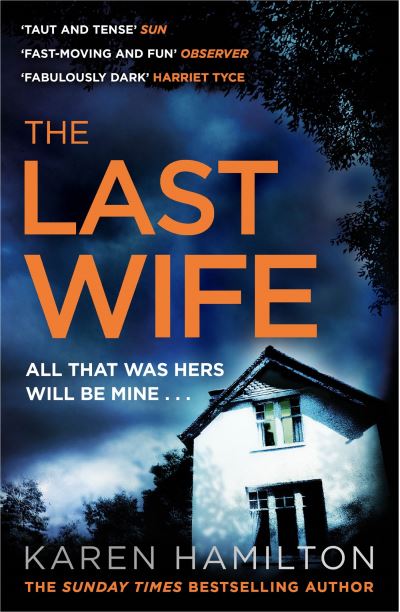 How far would you go to fulfil a promise to your oldest friend? Nina, in the final days of her illness, asks her best friend Marie to look after her family when she's gone. And Marie does everything she can to step into Nina's shoes after her friend's tragic death. She tries to do the best by Nina, tries to be there for Nina's young children, tries to support Nina's grieving husband, tries to keep their lives on track despite their terrible loss. But when Marie discovers a dark secret that Nina had kept concealed, she is forced to confront the past, and those shared secrets come back to haunt her too.
Who would YOU trust to carry out your final wish?
'Such a twisty ride! You are going to love this' Lesley Kara, bestselling author of THE RUMOUR

Two women. A dying wish. And a web of lies that will bring their world crashing down...

Nina and Marie were best friends-until Nina was diagnosed with a terminal illness. Before she died, Nina asked Marie to fulfill her final wishes.
But her mistake was in thinking Marie was someone she could trust.
What Nina didn't know was that Marie always wanted her beautiful life, and that Marie has an agenda of her own. She'll do anything to get what she wants.
Marie thinks she can keep her promise to her friend's family on her own terms. But what she doesn't know is that Nina was hiding explosive secrets of her own...
Praise for THE LAST WIFE:
'Taut and tense from the first page to the closing paragraphs - a touching tale that really hit home'
Sun

'Fast-moving and fun, with an obsessive, Machiavellian, yet enjoyably self-aware narrator'
Observer
'If you enjoyed The Perfect Girlfriend you'll love The Last Wife - another fabulously dark central character with a great twisty plot' Harriet Tyce, bestselling author of Blood Orange
Praise for THE PERFECT GIRLFRIEND:
'Let this supremely enjoyable thriller whisk you up, up and away. Buckle your seatbelts, you're in for a very bumpy ride... ' Sunday Mirror

'This debut novel is written with a gleeful zeal . . . Juliette is such a memorable, grippingly unpredictable character' Daily Express

'Be prepared to put your life on hold for The Perfect Girlfriend' Good Housekeeping
Additional information
| | |
| --- | --- |
| Weight | 260 g |
| Dimensions | 196 × 128 × 30 mm |
| Author | |
| Publisher | Wildfire |
| Imprint | Wildfire |
| Cover | Paperback |
| Pages | 374 |
| Language | English |
| Edition | 1st paperback ed |
| Dewey | 823.92 (edition:23) |
| Readership | General – Trade / Code: K |