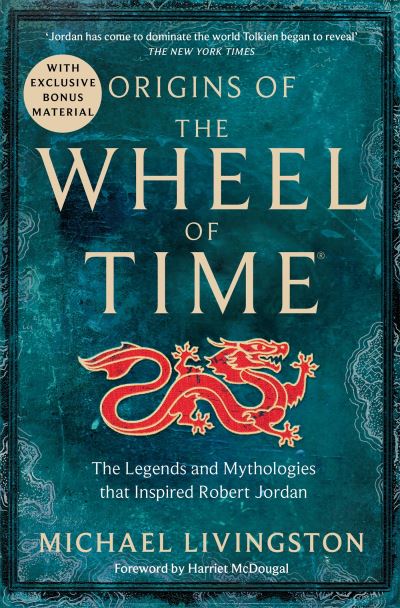 Origins of The wheel of time
A must-read for the millions of fans of the books and television series, Origins of The Wheel of Time is a deep dive into the inspirations behind The Wheel of Time, including Robert Jordan's creative processes.
NOW WITH EXCLUSIVE BONUS MATERIAL
From author and scholar Michael Livingston, Origins of The Wheel of Time is an authorised exploration of the inspirations behind the acclaimed series, including the first biography of its creator, Robert Jordan. With an introduction by Jordan's editor and widow, Harriet McDougal.
Explore never-before-seen insights into The Wheel of Time, including:
- A brand-new, redrawn world map by Ellisa Mitchell using change requests discovered in Robert Jordan's unpublished notes
- An alternate scene from an early draft of The Eye of the World
- An exclusive interview with the author
This companion to the internationally bestselling series will delve into the creation of Robert Jordan's masterpiece, drawing from interviews and an unprecedented examination of his unpublished notes. Michael Livingston tells the behind-the-scenes story of who Jordan was (including a chapter that is the very first published biography of the author), how he worked, and why he holds such an important place in modern literature.
The second part of the book is a glossary to the 'real world' in The Wheel of Time. King Arthur is in The Wheel of Time. Merlin, too. But so is Alexander the Great and the Apollo Space Program, the Norse gods and Napoleon's greatest defeat - and so much more.
Origins of The Wheel of Time will provide exciting knowledge and insights to both new and long-time fans looking either to expand their understanding of the series or unearth the real-life influences that Jordan utilized in his world-building - all in one accessible text.
'Jordan has come to dominate the world Tolkien began to reveal' - The New York Times on The Wheel of Time series
Additional information
| | |
| --- | --- |
| Weight | 234 g |
| Dimensions | 197 × 129 × 23 mm |
| Author | |
| Publisher | Tor |
| Imprint | Tor |
| Cover | Paperback |
| Pages | 336 |
| Language | English |
| Edition | Paperback original |
| Dewey | 813.54 (edition:23) |
| Readership | General – Trade / Code: K |