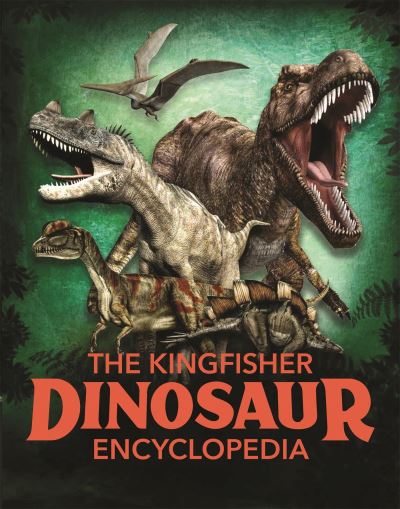 The Kingfisher Dinosaur Encyclopedia
A superb one-volume dinosaur encyclopedia that brings a world of knowledge to your fingertips.
Discover the dinosaurs and prehistoric animals that once roamed across Earth and commanded the oceans and seas. Completely revised with comprehensive text and new images, The Kingfisher Dinosaur Encyclopedia brings dinosaur enthusiasts closer to prehistoric life than ever before.
Colourful illustrations, 3D reconstructions and step-by-step sequences detail the latest scientific research about these magnificent creatures. Discover which baby dinosaur had a footprint smaller than a fifty pence coin, witness how a recent discovery has brought scientists closer to truly knowing dinosaurs' colouring and meet the scientists who have unearthed groundbreaking revelations. Dinosaurs and reptiles from around the world are shown in concise detail, including the giants discovered in Tanzania, the remarkable early bird fossils found in the Jehol Biota ecosystem in China, and the dinosaur bone bed in New Mexico.
The Kingfisher Dinosaur Encyclopedia is perfect for home learning and for school - the ultimate guide that every dinosaur fan needs.
Author Michael Benton is a renowned palaeontologist and has written of several dinosaur themed children's books, as well as consulting on media productions. He has even had a dinosaur named after him!
Arranged thematically into key areas, the concise text is clear, accurate, and perfectly pitched, making this an unbeatable resource for home and school.
Additional information
| | |
| --- | --- |
| Weight | 648 g |
| Dimensions | 275 × 215 × 11 mm |
| Author | |
| Publisher | Kingfisher |
| Imprint | Kingfisher |
| Cover | Paperback |
| Pages | 159 |
| Language | English |
| Edition | New edition |
| Dewey | 567.903 (edition:23) |
| Readership | Children – juvenile / Code: J |