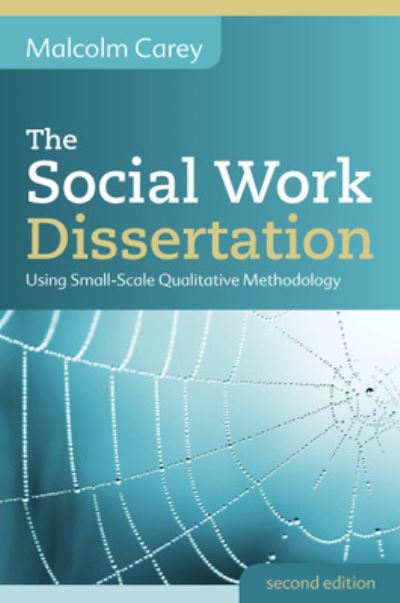 The Social Work Dissertation
This title guides the student through the research process relevant to the completion of a social work dissertation, examining the process of both empirical and literature based dissertations, highlighting potential obstacles, essential techniques and methods involved in research.
"This book is an indispensable and uniquely placed resource for any social work student daunted by the prospect of the dissertation, or indeed for practitioners who are starting out in research. Malcolm Carey has managed the difficult task of producing a guide which is not only accessible and full of practicable advice, but is also grounded in theory and strongly informed by social work values. As a social work PhD student, I would highly recommend this book to fellow students at all levels of qualification."
Hannah Jobber, PhD student, University of York, UK
"Malcolm Carey has written an excellent second edition. It combines discussion of theoretical issues with practical guidance, supported with clear examples. It achieves a rare balance of conceptual sophistication combined with the provision of down-to-earth advice. Students at undergraduate and postgraduate levels will find it answers the majority of their questions about how to do a dissertation in a very clear and accessible way."
Professor Steven M Shardlow, The University of Salford, UK and Editor-in-Chief, The Journal of Social Work
"I have recommended the first edition of this book to undergraduate and postgraduate students undertaking dissertations and I will definitely be recommending this 2nd edition. It is a very clearly written and accessible guide to the process of writing a research-based dissertation from first thoughts through to final writing up. The book is well laid out with excellent summaries of key points in table form. Carey takes the student through the research process discussing the importance of the different stages in contributing to the dissertation as a whole.
This new edition has been updated to take account of new areas such as the growth of systematic reviews and remains an excellent sourcebook for students and anyone taking their first steps in undertaking research."
David Saltiel, Lecturer in Social Work, School of Healthcare, University of Leeds, UK
"This book conveys complex information pertaining to research in a clear and accessible way. this is a comprehensive guide which is easy to follow."
Val Sylvester, Senior Lecturer, The School of Health and Social Care, Birmingham City University, UK
Research is now identified as comprising an integral part of everyday practice within health and social care. The second edition of this popular book equips students and practitioners within social work with the skills and knowledge to effectively undertake research and complete their dissertation.
Written in a clear and straight forward way, the book demystifies tasks which may at first seem difficult, such as the literature review or interviews with practitioners, and clarifies the research process by providing a straightforward guide to the basics.
Topics include:
Deciding a topic
Setting a research question and clear objectives
The stages followed whilst completing a dissertation
How to undertake a literature review
Analysis and writing up
Ethical issues
This new edition has been fully updated to include more guidance on doing a literature review and literature based research, how the internet can be used to undertake research and more details of ethics and writing up.
This book provides an essential guidebook to qualitative research methodology for social work students and practitioners.
Additional information
| | |
| --- | --- |
| Weight | 372 g |
| Dimensions | 230 × 153 × 15 mm |
| Author | |
| Publisher | McGraw-Hill |
| Imprint | McGraw-Hill |
| Cover | Paperback |
| Pages | xii, 238 |
| Language | English |
| Edition | Second edition |
| Dewey | 361.30721 (edition:23) |
| Readership | College – higher education / Code: F |